The SlingShot survey tools deliver digital wellbore surveying capability at a low cost with the latest technology.
Built-in menu-driven user interface with simple two button operation
Fully digital low-power circuitry for long battery life
3-axis accelerometers and mangetometers
Temperature sensor
1-in. O.D. x 30-in. length
Operating temperature 125 deg. C (257 deg. F)
Built-in diagnostics
Accuracy: Azimuth/MTF: +/- 0.5 degrees
Accuracy: Inclination/GTF: +/- 0.1 degrees
The tool is available in two configurations, single-shot with timer or monel sensor and a multi-shot.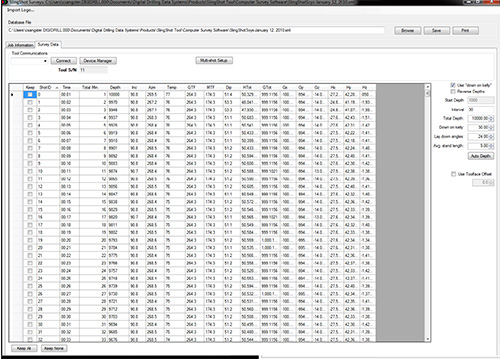 Optional non-magnetic (monel) collar sensor
Timer-based trigger
On-device display for recorded survey values (time, inc., azm., temperature)
No need for PC software for Inclination, Azimuth, Temp, GTF or MTF

Initial time trigger with secondary interval timer
Memory support for approx. 1500 surveys
Complete telemetry data recorded (including g/h-totals)
Plug-and-play USB interface to PC for data downloads
Software includes: editing, printing, auto depth and reverse depth features
Survey settings can be done on the tool or through the PC software